While finding the right luxury villa on Lake Como is the main priority for high end guests looking to book a unique vacation experience, on arrival, nothing can prepare you for the scenic beauty of the lake itself.
Lago di Como has inspired poets and writers from as far back as ancient Roman times, with Pliny and Virgil having written about it. This is, of course, why owners have been inspired to engage the best architects to design these homes in the first place.
The lake's unique atmosphere has been a great inspiration for poets and writers, composers, artists and politicians. Stendhal, Guiseppe Verdi, Lord Byron, Johann Wolfgang von Goethe, Piotr Ilich Chaikovski, Ernest Hemingway, Mark Twain, Heinrich Heine, Henry Wadsworth Longfellow, Isaak Levitan, Gioachino Rossini, President F.D. Roosevelt, President J.F. Kennedy and many others couldn't resist the charm of Lake Como. By the way, you can stay at the Villa Serbelloni Hotel, which is where Winston Churchill worked on his paintings.
When you're talking about Lake Como villas and a place where A-list celebrities own holiday homes, extraordinary villas are hardly thin on the ground around Lake Como. But even with owners the likes of Clooney, Madonna, the Versaces, Julia Roberts, Antonio Banderas, David Beckham and Sir Richard Branson, it's still a job to find the most unique and luxurious villas you can actually stay in to understand why this lake attracts not only the wealthy but also those inspired and with vision.
Luxury Lake Como villas have a long history on the lake, which is why visiting some of those Lake Como villas that are open to the public has become top of the 'must-do' items on your Como holiday tourist list.
The Lake Como villas open to the public include Villa Melzi in Bellagio and the beautiful Villa Monastero in Varenna, both with linear gardens designed to take advantage of the lakeshore; the most famous Villa Carlotta with its seven hectares of centennial rhododendrons, mythological sculptures, Japanese bamboo garden, panoramic views, even a long arbour dripping with heavy lemons in spring; and my favorite, Villa Balbianello, because of its fascinating adventurer owner, Italian mountain climber Guido Monzino, are just some of the villas open to the public.
As for renting Lake Como villas for a taste of noble lake life, although you can pay up to 130,000 euros per night for the highest end Lake Como villas, there are also unique experiences you couldn't find anywhere else for much less. And if you're planning a large family holiday, get together of a large group of friends or even a business retreat, these Lake Como villas are just a taste of the luxury pickings available in this Italian paradise.
Featured Lake Como Villas in more detail
If you're looking for something substantially different from the dime a dozen Liberty Villas all the rage on the lake in the Belle Epoque, mid-Century Villa Ponti catches your eye for more reasons than its unique architecture.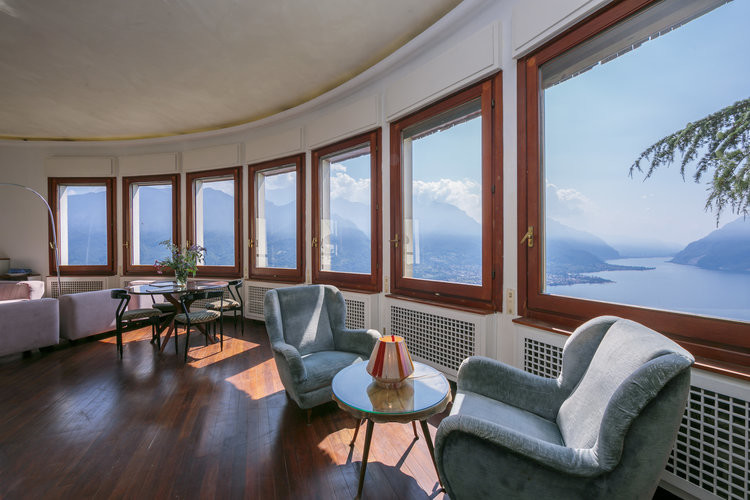 Since WWII, wealthy Milanese moved their families to safety in Civenna, above Bellagio, because not only was it close to Milan (50 minutes on a good day) it was considered the best place to escape Milan's scorching summer heat, being 400m above the lake's micro-climate. Villa Ponti has, according to locals, the most panoramic views of all of Italy's lake properties. From it, you can see the snow-capped Swiss Alps from November to March, almost the entire snaking arm of the lake from Bellagio to Lecco, and the Grigna Mountain Range.
Gio Ponti, Italy's most well-known architect and founder and editor of Domus architectural magazine until his death in 1979, was a friend of the original owner. Ponti and Domus architects had previously designed the interiors of luxury Transatlantic Liners, so thus incorporated these elements into the design of Villa Ponti. Rich wood panelling, spiral staircase, ship lights and funnels all help create the illusion of a ship floating in a wild mass of cedar greenery above the blue lake.
The villa, 7km up the mountain from Bellagio, can accommodate 16 people in 8 bedrooms, most with either access to the terraces that run the length of the building on the lakeside or the cool gardens opposite. The all but abandoned house was revamped and opened to the public in July 2018. The kitchen was architect designed with the brass cube island and cherry wood cupboards built by local artisans. An infinity pool, sauna and hot tub strategically placed around the hectare of private grounds overlooking the lake are expected to be completed by Easter 2019. The villa can provide bespoke services or more independent rentals for around 1700 euros/week, depending on the number of guests and season.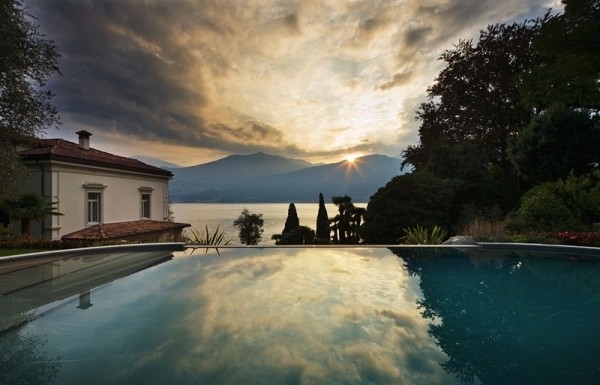 Another stunning property and exemplary example of luxury Lake Como villas is Villa Incanto, at Torno, which sleeps up to 18 people. Located on the picturesque and less crowded western shore of the lake, it has a private pool, lake views, nine bathrooms and outdoor terraces. The stunning retreat location. is set in its own private garden and is considered one of the grand houses of the lake. It has also recently undergone a massive multi-million euro transformation, including a spa and gym housed in its own buildings, a private terrace on the lake shore, housekeeping, a motor boat and a chef. A week here is around 24,000 euros.
Suppose you find yourself there, driving from Como to Bellagio. In that case, there are some stunning Lake Como villas along the shore which, because of the steep landscape, can only be glimpsed, with curlicues of iron forming the gates of the property in the Liberty Style visible. It's a drive or boat ride, but it is worth the effort.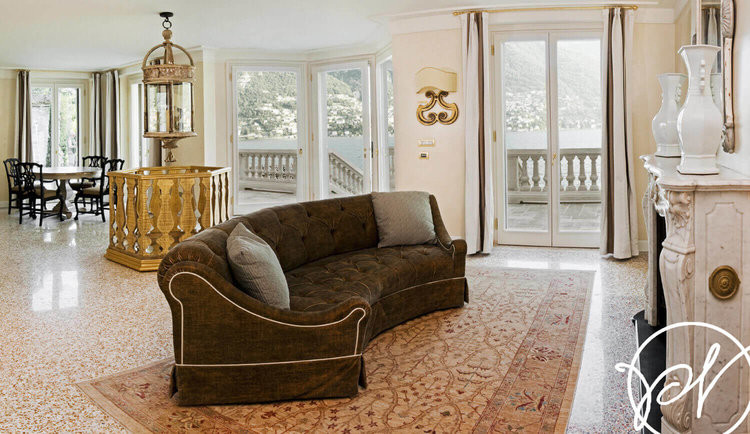 For a taste of higher end luxury and of traditional neo-classical architecture, Villa Norma is also located right on the lake shore. It only sleeps 6 and will set you back more than 7000 euros/night, but it has the kind of sleek elegance royalty would be expecting. Set over four floors, the villa has its own private dock, Jacuzzi, games room, pool table and wet bar on the estate.
During the rise of the Roman Empire, rich and powerful people built their villas on the shores of Lake Como. That was the time when villa culture, as known as villa epoche, became popular and recognized. The great Roman poet, Virgil and politician Pliny the Younger were, perhaps, the most famous Como residents as they had their villas on the shore of this picturesque lake. During Renaissance times, Italian genius, Leonardo da Vinci, lived and created his masterpieces in the valley as well.
Few of these ancient villas survive. From its earliest days until the 19th century, when it became a peaceful playground of the rich, the various power brokers fought for supremacy of the rich lake shores.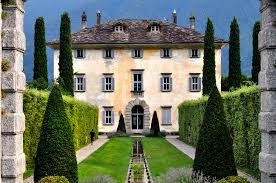 And if you really are one of the world's most wealthy people, Villa Balbiano, at 132,000 euros/week in low season. is a palazzo on the lake's shores that dates back to the sixteenth century. Sitting in two hectares of private parkland, it was once the home of Cardinal Durini, a well-known collector of art. He hosted banquets, dances and concerts for the frivolous society where festivals and exhibitions followed one another without pause during the season. Much of the original architecture, including frescoes and original marble floors, is still in place. There are three floors and six sumptuous bedrooms renovated by French decorator Jacques Garcia.
One of the largest properties around the lake, the villa was built by Cardinal Tolomeo Gallio at the end of the 16th century and sold to Cardinal Durini in 1787. He enlarged both the house and gardens, erecting statues, and fountains and opening new avenues between hedges and pergolas. Over the years, the villa has hosted many weddings, events and family holidays.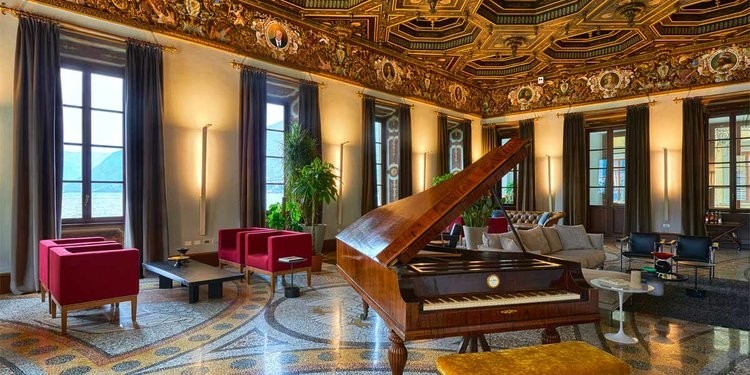 Or this other exquisite 16th Century palazzo, Villa Pliniana, similarly refurbished to the highest modern standards, spanning 6.5 waterfront hectares and sleeping up to 36 guests in 17 bedrooms with its own private helicopter landing pad, custom made Riva boat, spa, historical loggia, billiard room, Jacuzzi, and butler and concierge services included. Like the previous villa, this blends modern amenities with the historical authenticity of original frescoes and 16th Century architecture with twenty-first century modern conveniences. This film set villa is the epitome of Italian luxury and style – perfect for wedding destinations with its own ballroom.
And if you really can't decide between Liberty Villa and funky modern architecture, you can have both. If you have a cool 28,000 euros/week to spare, this gorgeous villa with a park, tennis court, indoor heated swimming pool for those colder months and garages galore to save you those eternal Lake Como parking problems. Bring your family and friends because this villa can sleep 15 in 8 bedrooms with 7.5 bathrooms.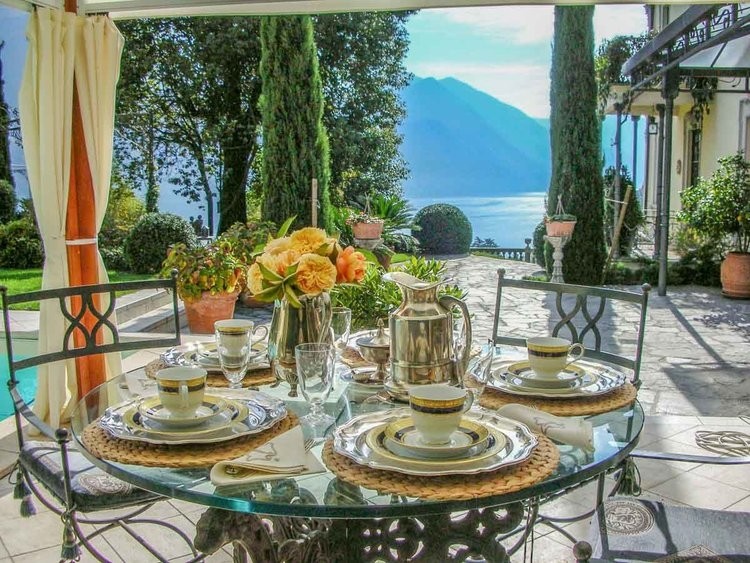 Vista Lago is an elegantly restored villa between Laglio and Tremezzo's charming towns on the west shore of the picturesque Lake Como. Due to its hilltop position, the villa offers unparalleled views stretching from the headland of Bellagio in the north to Nesso in the south. Old world details, antique paintings, and luxurious furnishings blend seamlessly to create a timeless ambience. With six bedrooms and bathrooms, it comfortably sleeps 12 guests in refined luxury for just over 23,000 euros/wk.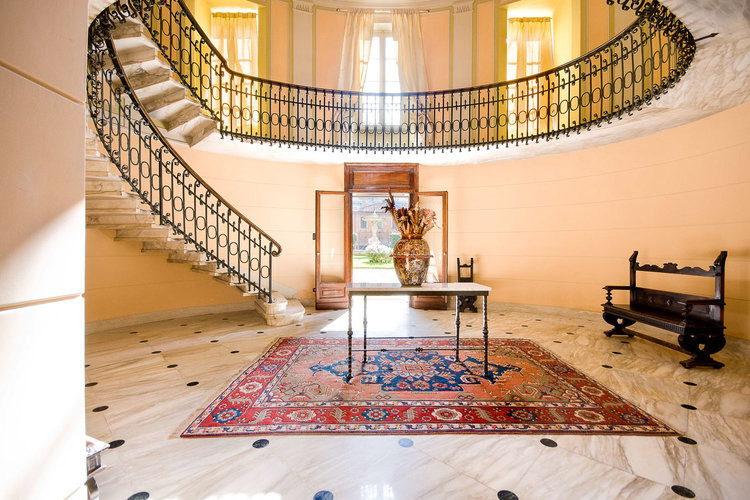 Another property awash with history and modernity is Villa Oleandra. It's most famous for being sold to George Clooney in 2002, who often stays with his family during part of the summer. Contemporary amenities coexist in harmony with historic architecture. Located in the heart of Lake Como, in the village of Laglio, it's one of the top picks for larger groups of up to 26 guests. Discerning guests looking to get away to this exclusive area of Italy will find much needed rest and relaxation. This aristocratic villa offers fantastic views and refinements fit for a Luxury Retreat.
The villa features a long, oval swimming pool, a home entertainment system, and video conference and games rooms. A modern elevator services all floors. A well stocked wine cellar will please any discerning oenophile. The booking includes complimentary continental breakfasts and daily housekeeping. The villa starts from 5700 euros/night.
Many Villas surround the lake, some perched high on the mountains. Still, none have the perfect views of the town of Bellagio in one direction, Menaggio and Tremezzo directly across the lake and in the near distance, Villa Balbianello of Bellagio Villa. At each angle, the Central Lake reveals itself. There is an aristocratic family who lived for many decades at the Villa, and you will see many collectables that highlight their life.
They once lived in this property, and the grandsons are the current proprietors. The villa can accommodate 20 guests. For 12 the weekly rate is 40,000 euros but it can accommodate more. The price can vary depending on the number of guests. Full and half service catering can be provided for an extra cost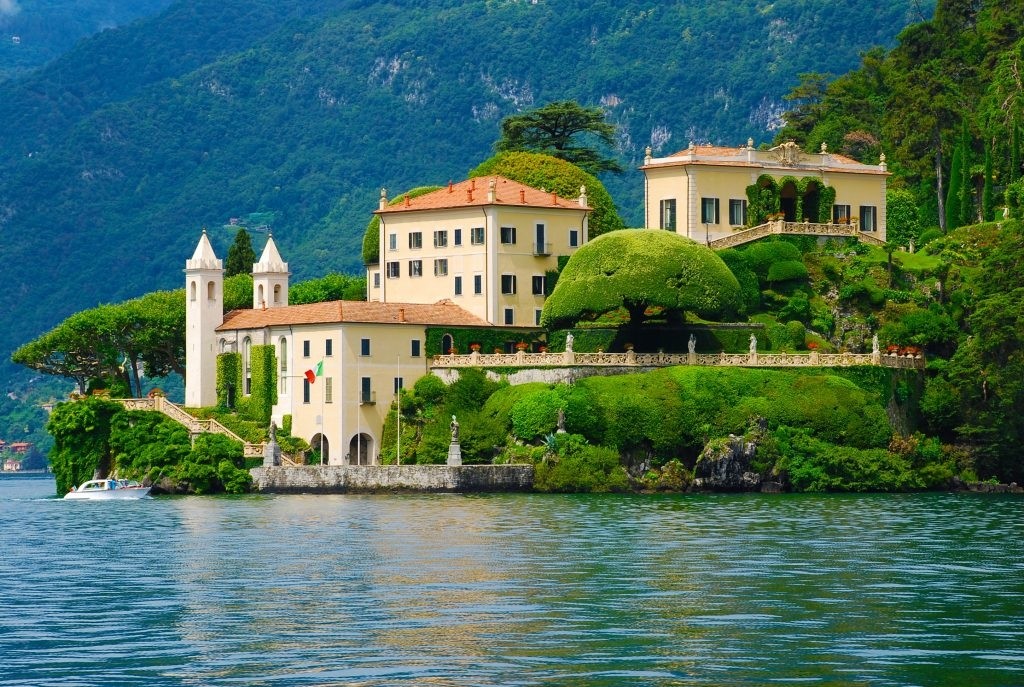 Villa la Cassinella represents the pinnacle of luxury Lake Como villas, sharing the Punto di Lavedo with the historic Villa Balbianello; the Villa, without doubt, bestows guests with unique and unmatched views of Italy's most mesmerising lake within a private and exclusive setting.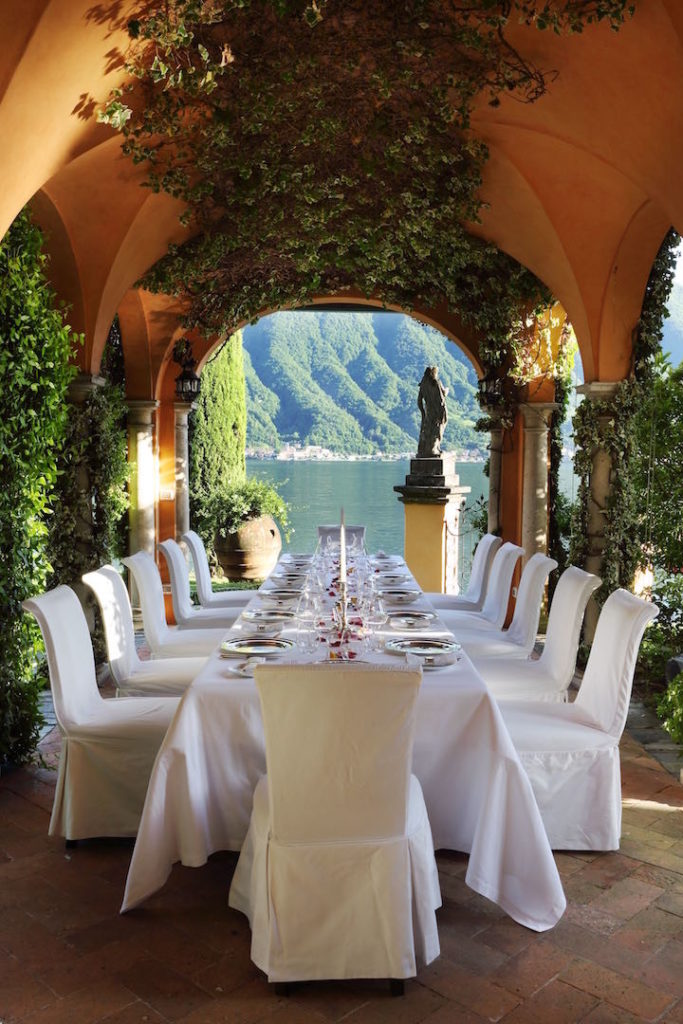 Having undergone a complete restoration, the Villa provides a first class blend of modern convenience and amenities that is surrounded by natural beauty and furnished with the highest quality Italian antique furniture, fine art and objects chosen from across Europe.
Adjacent to the fully heated infinity edge swimming pool, finished with 22-carat gold reflective tiles, lies the state of the art cinema and a spa style bathroom which services the fully equipped Technogym gymnasium.
The Terrace House, with panoramic lake views, private terraces and a dining area, is quietly situated beyond the tennis court. The Villa sleeps 17 guests, has a full complement of staff and services included and rents for around 120,000 euros/wk
This Villa offers space and absolute comfort for your stay, including a gloriously decorated Drawing Room with a marble fireplace, formal Dining table and direct Lake Views, as well as a more relaxed Living Room situated adjacently and providing Sofas, a large Flat Screen Sat. TV, DVD Player, CD Player and direct Lake Views.
Doors leading from these rooms in the inner marbled hallway lead to the outside sunny Lake front Terrace, furnished with a dining table, chairs, parasol, BBQ and Sun loungers. The villa sleeps 16 in 8 bedrooms and rents for 10-18,000 euros/wk.