Villa by 1960s architect Gio Ponti
When we first bought the Villa Ponti Bellavista, designed by Italy's most famous architect, Gio Ponti, we thought the renovation and restoration of mid-century villa in Lake Como would be simple. All the original 1960s bathrooms were intact, without a single broken tile, and the original marble and wooden floors were in perfect condition. We thought it just needed a lick of paint.
Like all home renovators, we couldn't have predicted what we'd find after starting the restoration of mid-century villa in Lake Como.
The story of our restoration of mid-century Villa in Lake Como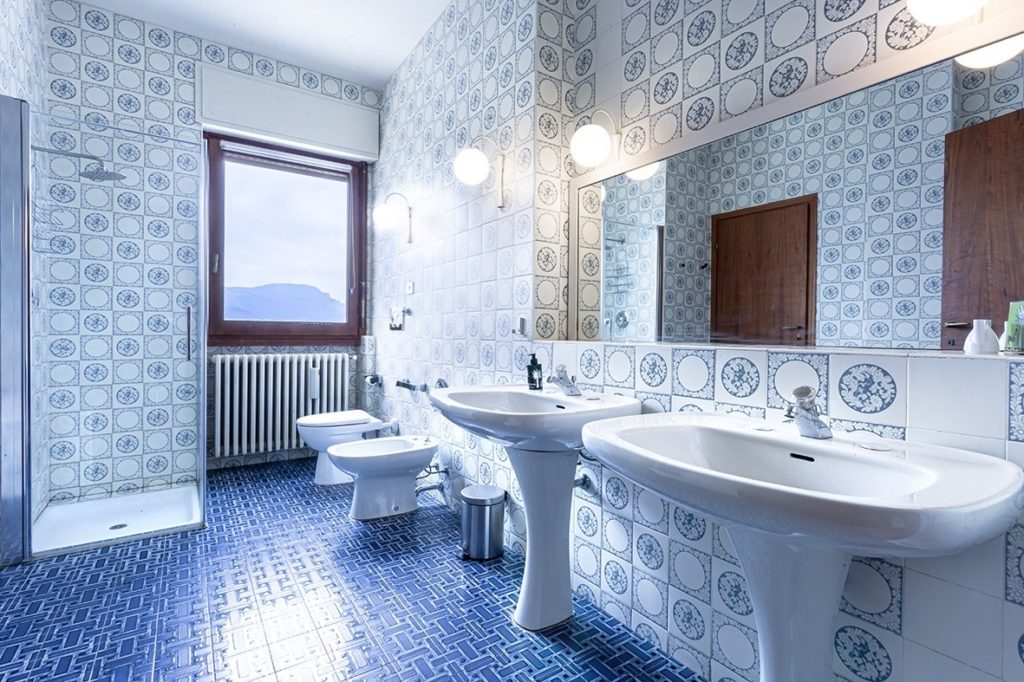 The story of our restoration of mid-century Villa in Lake Como begins with the north wall. The entire north wall was sodden because most of the plaster had fallen off. We hired a mason to restore it. But it meant every room on that wall, which included most of the bedrooms, was humid inside, and when we went to prepare the rooms for painting, much of the plaster on those walls and the ceilings near it fell off.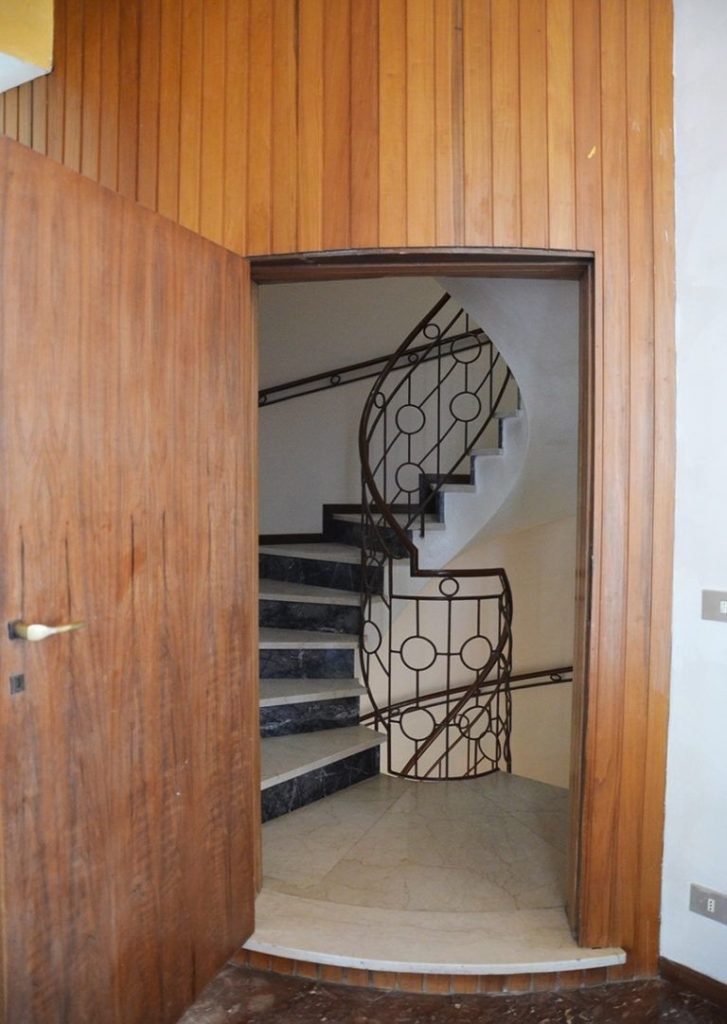 We decided to use a new expensive brand of high quality natural paint called Romabio, not quite realizing how many square metres would be involved! We also chose hued finishes for the entrance and ceilings of the stairwell and main salone, creating a textured finish silver finish in the latter and entrance walls with gold on the entrance ceiling. This involved painstaking application in small scraper strokes. The main salone alone is 80mq with the ceiling taking more than a week. This was one of the first jobs…when we thought we had plenty of time to finish before the beginning of the next season.
Then the floor in the middle salone, creating an extra bedroom from an old ironing room, and another kitchen/dining area from the huge laundry and reclaiming a wasted hallway, created a massive demolition and rebuild project on the middle floor.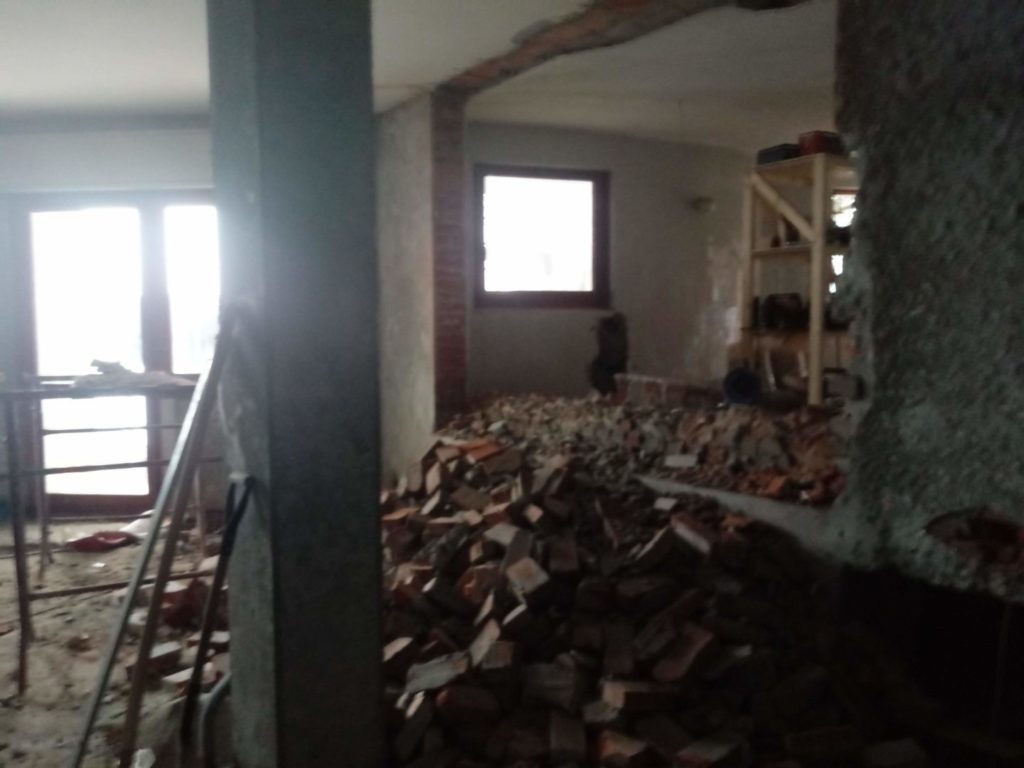 Not content with just making things functional in our restoration of mid-century villa in Lake Como, we wanted to use finishes we loved, like cocciopesto. A complicated process used by the Romans 2000 years ago. So durable, some of these floors are still visible today. But it comes from Puglia, and nobody in the local area knew how to lay it. We ended up doing and redoing it ourselves. All through the 50mq middle salone, which now has a womb-like feel because of it, and all the 200mq of lakeside terraces surrounding both floors of the villa.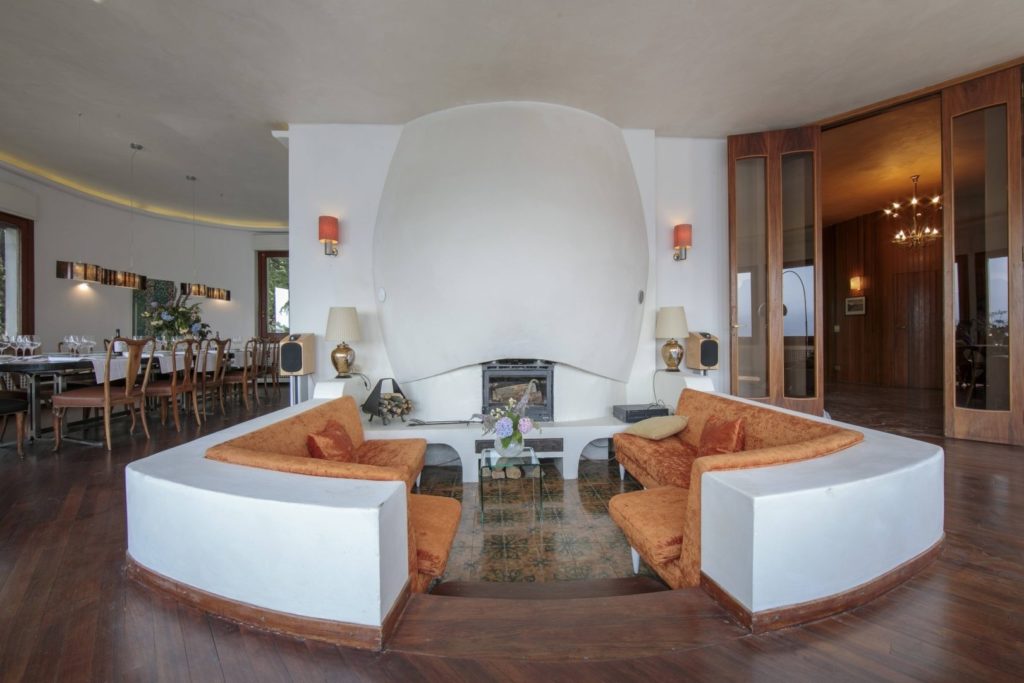 We did much of the work ourselves in our restoration of mid-century villa in Lake Como, because it really was a labour of love. Nobody else would have been so foolhardy. And uncompromising. But we also had young workawayers (like woofers) who helped. Some 90 or so young and middle aged people over two years from around the world. Many from South America danced, cooked, and laughed our way through what was sometimes a frustrating renovation.
One of the most enduring memories of that time will be some of the fabulous people we met and lived with during this first year of the restoration of mid-century villa in Lake Como. Some for just a week, others came back again and again and remain enduring friendships.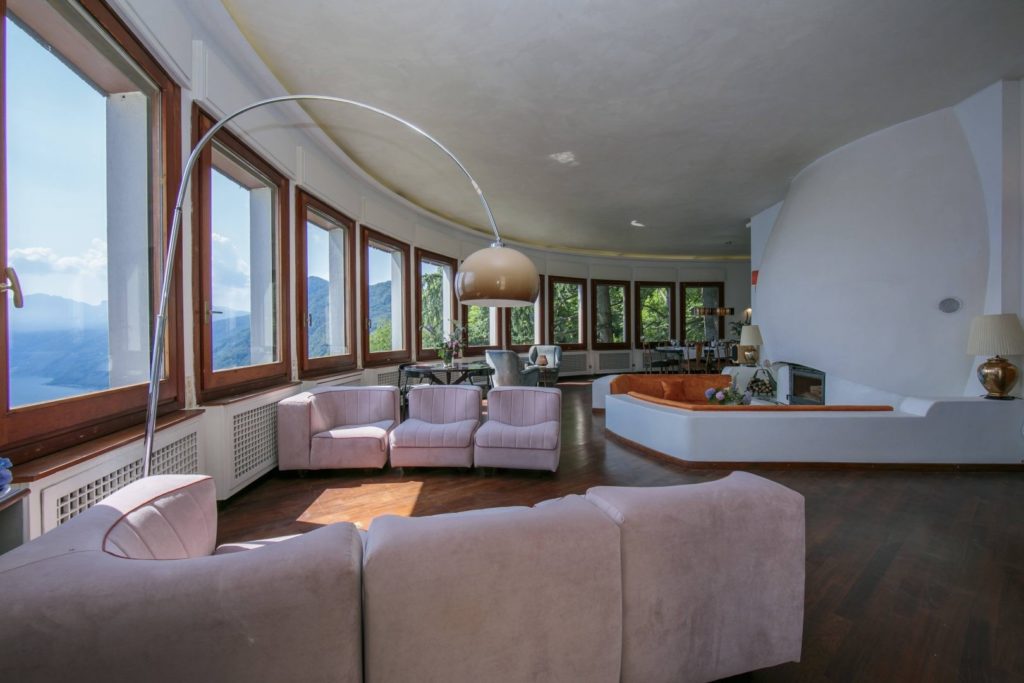 Then we lucked out, with a lot of careful research, and found the most incredible mid-century furniture shop with 4000mq of display of antiques and Modernariato (mid century) furniture. We bought the light fittings and most of the furniture, including the 4m Formanova dining table, from this incredible shop. And no, we're not going to tell you where it is! We found a local upholsterer who remade all the chairs and sofas we bought from there, and they've practically become part of the family.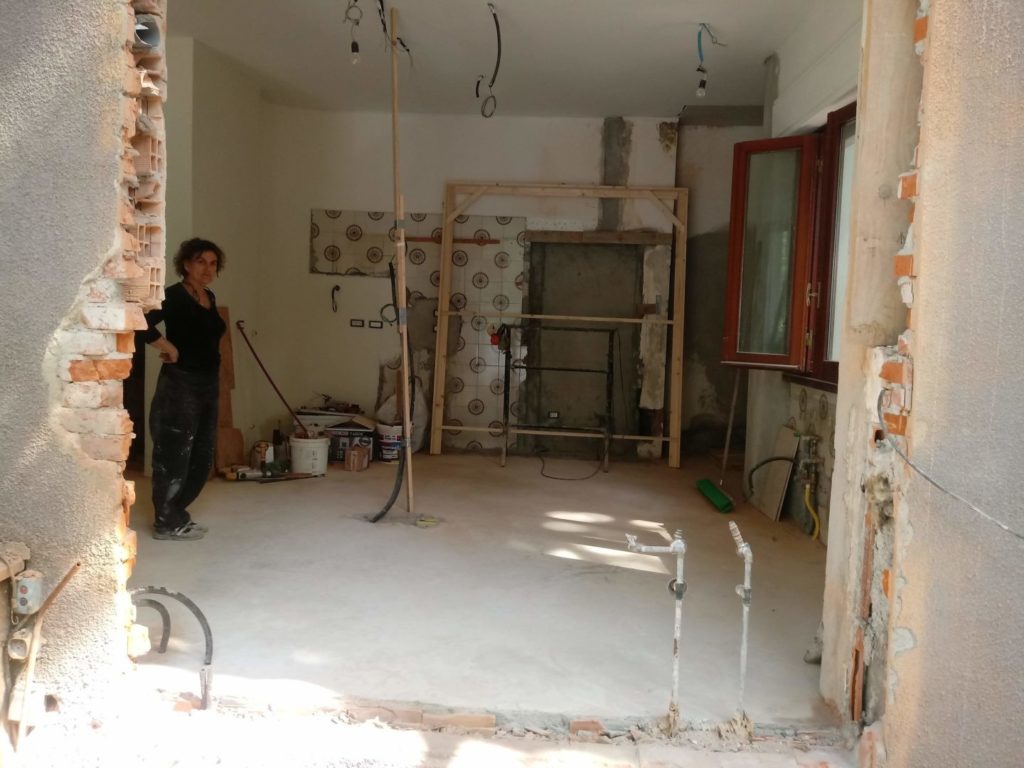 The kitchen, being designed for servants, was dark, with only one window facing a wall. We opened it to the forest, put yet another terrace outside and then, the piece de resistance, engaged a local furniture craftsman (a husband and wife team, and no Alessia doesn't only do the books!) and our gorgeous metal worker Augusto (whose lovely wife supplies our free range eggs and honey) to make the brass island with cherry wood interior.
It took five months and wasn't the most economical decision we've ever made in our restoration of mid-century Villa in Lake Como, but we and everybody will always be dazzled by it. (Only our cleaner is less than thrilled.)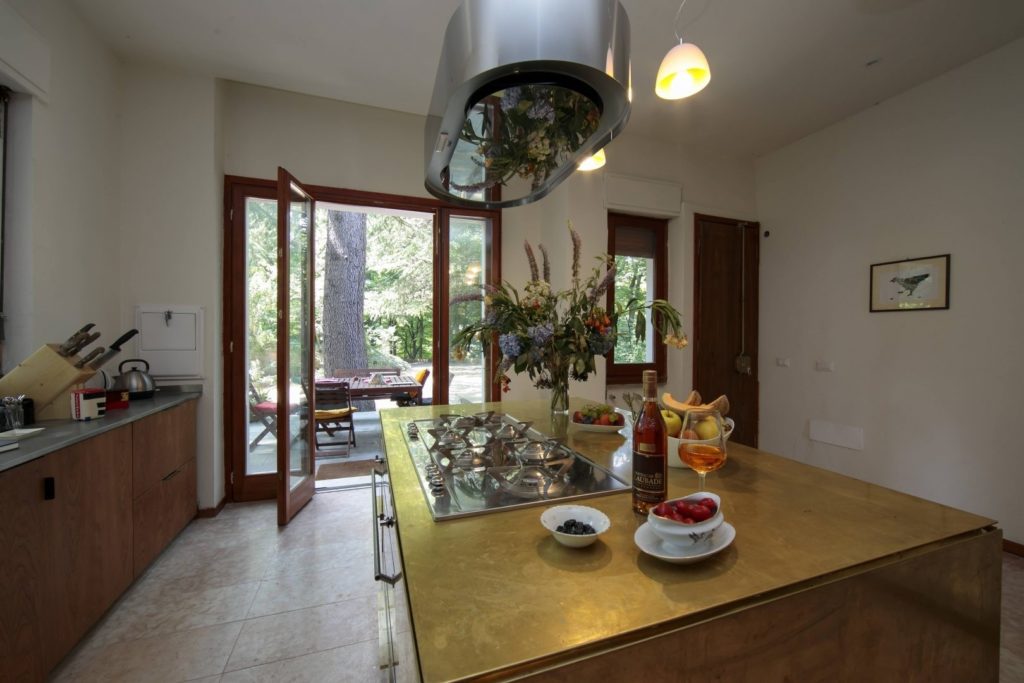 We bought historical art pieces from our talented neighbour, who has had exhibitions throughout his life, beginning in the 1960s. His latest works didn't suit the villa style, so we convinced him to sell us some of his best earlier pieces he'd kept because he couldn't part with them. And he agreed to put some of these works in the villa exclusively for sale to our guests.
Then came the swimming pool. We could have done a small one. We could have built one without the acres of pink French stones creating the deck around it or the beautiful ready Kentucky Bluegrass and 200 hydrangeas. We could have done without the sauna. Or a hot tub. We could have been sensible. Practical. But we were none of those things because we knew the pool and wellness centre would bring the villa to life. We knew a modest, simple project wouldn't quite cut it.
Now, because of the love, it's like no other villa we've seen anywhere in Italy. We searched for it for four years. spent two renovating it. But now it's here for life. To give life and breathe life into whoever walks through its doors.
Read more of Our Story here.