On Ferries or Boats, undoubtedly the best way to see Lake Como is from the water. Either travelling to the Villa or on a boating holiday around Lake Como, dramatic vistas, snow capped mountain ranges falling into the Lake, sunsets, sun and moon rises to equal no others in the world, nothing can compare to the scenery on Lake Como that has made it a favourite of writers and artists for centuries.
But don't be fooled into thinking you can boat around Lake Como and see it all in a couple of days. It's a massive lake. We once drove around every windy shore and it took more than four hours! Don't rush your boating holiday around Lake Como, savour it.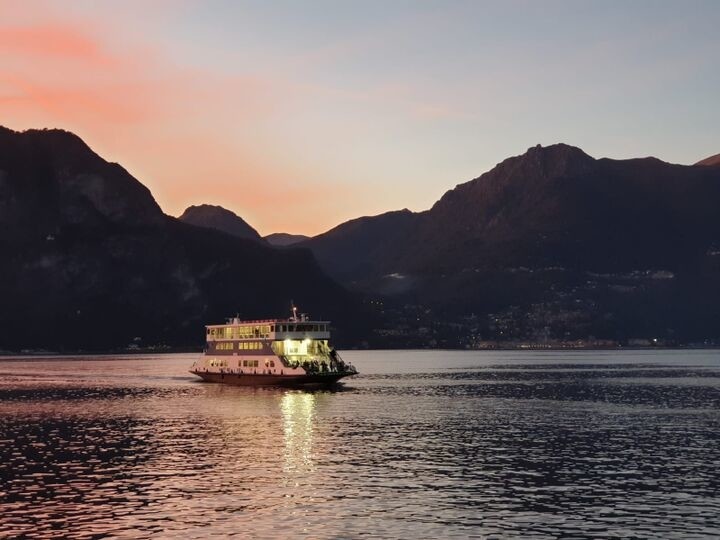 Boating on Lake Como is the easiest way to see the area
Narrow Lake roads make driving difficult
Boating on Lake Como is the easiest way to see the area. Driving can be difficult and challenging. Driving locally in July and August especially is really a nightmare on some of the narrow Lake roads. The one from Como to the top of the Lake, past Laglio, George Clooney's village, is one of the most beautiful but absolute worst for driving, where buses and trucks trying to pass each other can sometimes get stuck for an hour or more.
Why a boating holiday around Lake Como is better
Much better to consider a boating holiday around Lake Como. Using ferries or boat hire, you can spend your whole Lake Como boating holiday visiting the various hamlets, as they go to almost every village on Lake Como's shores.
Ferries
In the summer months, June to around the last week of September, ferries are frequent. But please be aware that ferrying from Como to Bellagio can easily take an hour. Ferries stop in the various villages along the way, which in itself is a delightful excursion worth making time for if you can.
The most active ferry is the one from Bellagio to the Clooney western shore, which snakes along the Como arm of Lake Como right up to the northern tip, close to the Swiss Alps. This leaves every half an hour and takes only ten minutes. It's a car ferry so if you do have a car, especially if it's in the shoulder months of April, May, September or October, you can easily pop over there from Bellagio to explore the many villages, villas and restaurants that side has to offer.
However, if you're not taking a car, it's better to take ferries or, better still, plan boating on Lake Como, to your exact destination. In the most interesting part of Lake Como, called the Golden Triangle, these stops include Varenna, Menaggio, Tremezzo and Lenno. Ferries to these destinations run about every hour or so, depending on the time of day. Be aware that Italian life stops for lunch, including ferries. The only exception are shops in Bellagio proper and restaurants everywhere, which have very strict lunch hours from 12 or 12.30 until 2.30 or 3pm, beyond which you'll be lucky to find even a humble piadina to quell your hunger.
Hire a boat
If you find travelling to a timetable too restrictive, leisurely boating around Lake Como is the way to go. You can pilot a boat yourself, for half or a full day of boating on the lake. These cost around 180 euros for half a day, but you can go where and when you like, park for lunch and hop back onboard to take your friends and family for an aperitivo or back home.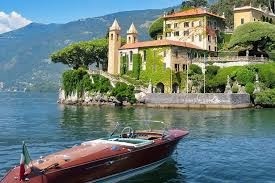 Guided Lake Como boating holidays and sailing tours
Or, if a guided Lake Como boating holiday or sailing tour is more your style, which usually incorporates some form of lunch into the price, we can highly recommend Luca and his Australian wife Jennine. They operate a boat hire business called Bellagio Water Limousines, in the family for three generations, which offers superior boating tours of Lake Como and warm hospitality: see www.bellagiowaterlimousines.com.
And if you want a boating holiday around Lake Como with family or friends, and want a secluded villa, away from the madding crowds, in your own paradise where you can watch others boating on Lake Como from a relaxing distance, Villa Ponti Bellavista provides such a view. Book direct now for the best rates.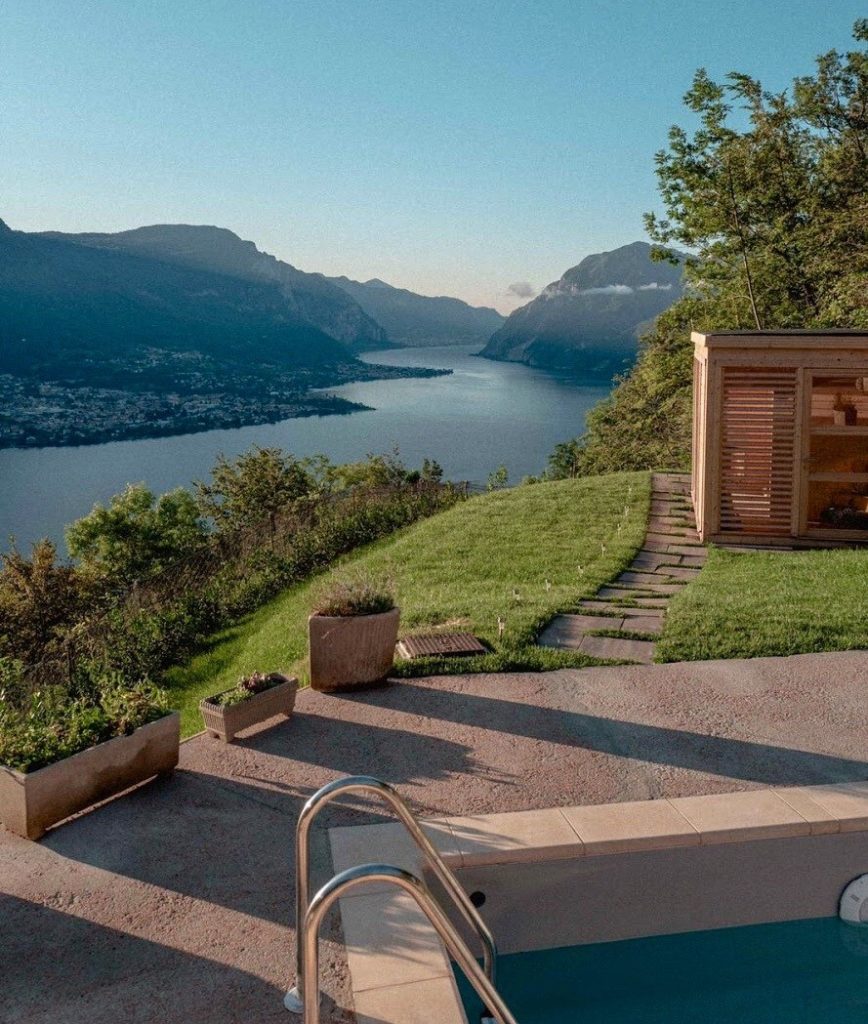 If style is a priority, hiring a classic wooden boat with driver is a must. A bygone era whispers in your ear as you speed towards a restaurant on the shore of Lake Como where you will most likely be the only guest arriving by chauffeur driven speed boat. www.comoclassicboats.com
Either way, leave enough time to fully explore the nooks and crannies of the incredible wonder that is a boating holiday on Lake Como. As always book direct for the best rates with Villa Ponti Bellavista and read more about our incredible Italian villa here.